Comfort Club Maintenance Membership

Why Choose Our Comfort Club Maintenance Membership?
Extending the Lifetime of Your System: We know that HVAC systems are a significant investment for your home. Our maintenance plan is your insurance policy for a longer system life. Regular maintenance can help prevent costly breakdowns and extend the lifespan of your HVAC unit, ensuring that you get the most out of your investment.
Increased System Efficiency in All Seasons: Imagine enjoying consistent comfort in your home, no matter the weather outside. Our Comfort Club Maintenance Membership optimizes your system's performance, ensuring it runs at peak efficiency. This translates into lower energy bills and a more comfortable living environment, whether it's a scorching summer day or a freezing winter night.
Safety for Your Home: Your safety is our top priority. A well-maintained HVAC system is not only energy-efficient but also safer for your home. Our maintenance plan includes thorough inspections to identify and address potential safety issues, such as carbon monoxide leaks or electrical problems, before they become major concerns.
Maintaining Warranty Obligations: Did you know that neglecting regular maintenance can void your HVAC system's warranty? Our Comfort Club Maintenance Membership ensures you meet all manufacturer-recommended maintenance requirements, so your warranty remains intact. This means you're protected from unexpected repair costs, as your warranty will cover eligible issues.
What's Included in Our Maintenance Plan:
Seasonal Tune-Ups: We provide comprehensive check-ups for your HVAC system twice a year, ensuring it's ready for the demands of both summer and winter.
Priority Service: As a club member, you receive priority service in case of emergencies. You won't be left waiting when your system needs urgent attention.
Discounts on Repairs: Should any issues arise, you'll enjoy exclusive discounts on repair services. This helps you save on unexpected expenses.
Peace of Mind: You can relax knowing that your HVAC system is in the hands of our skilled technicians, who are experts in maintaining and repairing HVAC units.
Regular Maintenance Reminders: We take the hassle out of remembering when your system needs attention. We'll send you timely reminders and schedule appointments at your convenience.
Don't let HVAC maintenance become a burden. Join our Comfort Club Maintenance Membership today and experience the ease and peace of mind that comes with a well-maintained HVAC system. You'll not only save money but also ensure your home's comfort and safety. Contact us to enroll and start enjoying the benefits of hassle-free HVAC maintenance. Your system will thank you, and so will your wallet!
Comfort Club Maintenance Membership Details
Monthly Investment
$15
$28
$49
Additional Systems per month
$12
$21
$37
Visits per Year
2
2
2
Scheduling Reminder
Parts & Labor Warranty***
12 Months
18 Months
24 Months
Priority Repsonse Time
24 Hours
Same Day*
Same Day*
Dispatch Fee (normal rate $150)
$50 off
$100 Off
Free
Membership Pricing on Select Services
5% Discount
10% Discount
15% Discount
Air Filters Included
-
Standard**
Standard**
Standard Water Heater Maintenance
-
Never Pay Overtime Rates
-
Humidifier Maintenance (Includes new Pad)
-
-
ACCA National Standard Task List
- Blower wheel cleaning
- Chemically Clean Coils
- Condensate Treatment
- Burner Cleaning
-
-
Saturday Scheduling availablilty
-
-
One Time Registration Fee
Additional System registration is $79/ea.
$99
$99
$99
Annual Investment
(Registration fee waived)
$180
$336
$588
Additional System Investment
$144
$252
$444
* Call must be received by noon to receive same day service guarantee
** Standard 1" pleated filter is included
*** On Repairs made by ComforTemp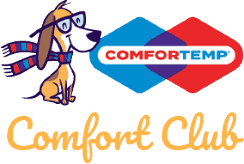 Need HVAC Service?
Contact the experts at ComforTemp Heating & Air Conditioning.
Call us at (630) 425-6943!