Comfort Club Maintenance Membership

Dirt and neglect are the top causes of heating and cooling system inefficiency and failure. To ensure energy efficient system operation, it is important to perform routine maintenance. Proper maintenance by a qualified technician is one of the most important steps you can take to prevent future problems.
Key Benefits of Regular Maintenance Include:
Prolongs equipment efficiency
Promotes healthy clean air
Supports lower utility costs
Guards against unexpected failures
Prolongs equipment life
Monthly Investment
$15
$28
$49
Additional Systems per month
$12
$21
$37
Visits per Year
2
2
2
Scheduling Reminder
Parts & Labor Warranty***
12 Months
18 Months
24 Months
Priority Repsonse Time
24 Hours
Same Day*
Same Day*
Dispatch Fee (normal rate $150)
$50 off
$100 Off
Free
Membership Pricing on Select Services
5% Discount
10% Discount
15% Discount
Air Filters Included
-
Standard**
Standard**
Standard Water Heater Maintenance
-
Never Pay Overtime Rates
-
Humidifier Maintenance (Includes new Pad)
-
-
ACCA National Standard Task List
- Blower wheel cleaning
- Chemically Clean Coils
- Condensate Treatment
- Burner Cleaning
-
-
Saturday Scheduling availablilty
-
-
One Time Registration Fee
Additional System registration is $79/ea.
$99
$99
$99
Annual Investment
(Registration fee waived)
$180
$336
$588
Additional System Investment
$144
$252
$444
* Call must be received by noon to receive same day service guarantee
** Standard 1" pleated filter is included
*** On Repairs made by ComforTemp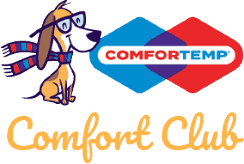 Need HVAC Service?
Contact the experts at ComforTemp Heating & Air Conditioning.
Call us at (630) 425-6943!