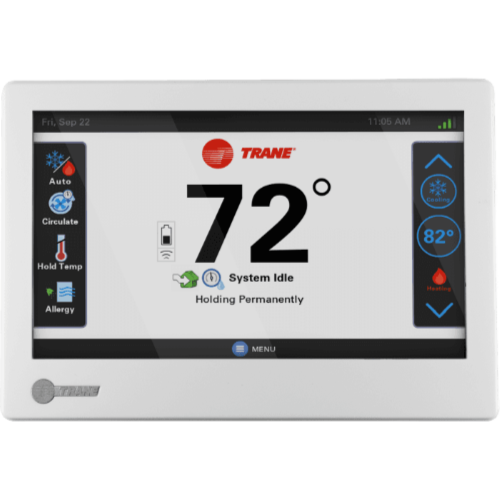 State of the Art Communication
The Trane® LINK UX360 utilizes Trane Link Connectivity. That means, you can easily access and control your smart thermostat from your smartphone, tablet, or computer. This communication system lets you take your comfort into your hands.
System Controller Included
This smart thermostat pairs Trane Link Connectivity with an SC360 System Controller. The system controller makes for improved accuracy, self-configuration, enhanced maintenance of system operation, and more benefits.
Enhanced Dehumidification
Not only can the Trane® LINK UX360 control indoor temperature, but it also provides enhanced dehumidification, keeping your home at its optimal humidity levels so you can feel comfortable all year long.
Peace of Mind
The Trane® LINK UX360 comes standard with a 10 year limited warranty on functional parts, and Trane Diagnostics, which helps HVAC technicians quickly and efficiently diagnose potential issues with your HVAC system.