Trane Whole Home Dehumidifier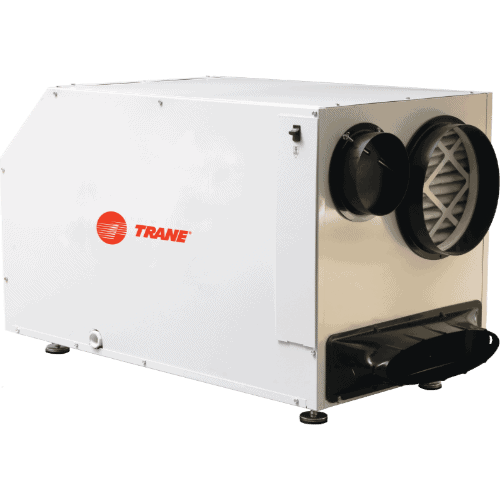 Adapts to Your Needs
Deliver whole-house dehumidification or ventilation. Use as a stand-alone unit or simply connect to your existing ductwork to use with your HVAC system fan.
Smart Home Connectivity
Connect the Whole Home Dehumidifier to your Trane Home-enabled smart thermostat and control your dehumidifier from virtually anywhere with a smartphone, tablet or computer.
Pair With Your Single-Speed System for More Comfort
Dehumidifiers are perfect for homes with single-speed HVAC equipment that may not solve high indoor humidity issues. Our Whole Home Dehumidifier can be added for better all-around comfort.
Efficient Energy Control
Choose a better way to solve humidity concerns in your home. Save money with a dehumidifier that avoids overcooling your home in the summer and continues to provide you comfort in the fall and spring even when outside temperatures don't allow an A/C to run.
Additional Features of the Whole Home Dehumidifiers With Optional Ventilation
If humidity levels are a concern in your home, Trane's Whole Home Dehumidifier with Optional Ventilation might be the solution you've been searching for when it comes to indoor air quality. This system can control the levels of humidity throughout your entire home, keeping them at their optimal levels to avoid the negative consequences of too much or too little humidity. Easily control your whole home dehumidifier by connecting it to your other HVAC systems with the Trane Home mobile app. Comfort, and humidity, control has never been easier.