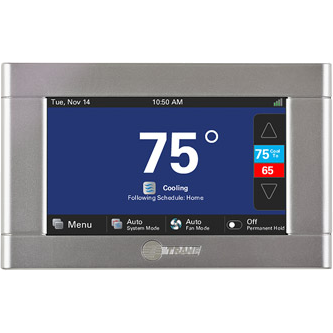 Real Time Diagnostics
The XL824 comes equipped with Trane Diagnostics. When you opt-in to remote diagnostics, your dealer can access real time data about how your HVAC system is performing, and will be alerted if there's a problem. Plus, if you grant your dealer remote access, they can even tap into your system to help troubleshoot problems remotely.
Exceptional Comfort
The XL824 works with most traditional HVAC systems to optimize whole home comfort. Plus, it can be used to control up to two indoor air quality products, like a dehumidifier or ventilation system, to keep the air you're breathing at home cleaner.
Smart Connectivity and Control
This exceptional thermostat combines a colorful touchscreen with a smart home hub, accessible via smartphone, tablet, or laptop, for the ultimate smart comfort experience. With the XL824's built-in bridge for Z-wave® devices, you have the ability to monitor and control over 200 devices in your home, from virtually anywhere.
Impressive Features
The XL824 boasts impressive features for homeowners to enjoy such as WiFi or ethernet connectivity, a color touchscreen, built-in bridge for Z-Wave® devices, and programming for 7 days a week.
Additional Features of the XL824 Thermostat
The XL824 brings innovative and user-friendly technology to your home, keeping your family and your guests at the optimal temperature in every season. Compatible with most traditional HVAC systems, the wi-fi-enabled smart thermostat comes fully equipped with Trane diagnostics so you can ensure your HVAC system is running at its best. Boasting a colorful touchscreen and a smart home hub, the XL824 is accessible on your mobile device for the ultimate smart home experience.