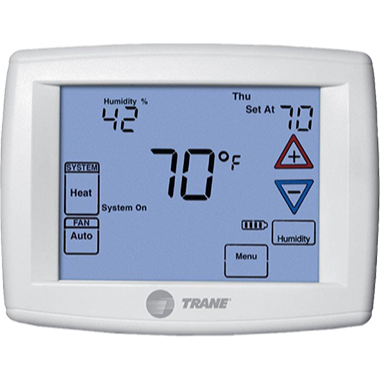 This digital programmable thermostat by Trane puts comfort in your control. Compatible with up four stages of heating and two stages of cooling, this home digital thermostat will keep your home comfortable day in and day out.
Flexible Comfort Control
Set your home thermostat for 7 day or 5+1+1 programming or manual operation.
Reliable Operation
This digital, programmable thermostat not only remembers your programming commands, but it also has a real-time clock that changes for Daylight Savings Time automatically.
Memory Capabilities
Able to remember your programming functions, you can set it once and let this home digital thermostat remember how you like the comfort set in your home.
Specifications
Every Trane home thermostat is packed with high-quality components. Each helps ensure that time after time, your home digital thermostat will provide total comfort your family can rely on.
The XR302 includes:
Large, bright back-lit display with interactive touch screen
Armchair programming with removable screen
Filter change and UV lamp reminders
Programming functions stored in permanent memory
Manual or auto changeover
Energy Management Recovery (Early Start)
Daylight Savings Time
Five-minute time delay for compressor protection
Outdoor temperature display
Compatible with 3 wire zone valves, mili-volt and dual fuel systems